This Month's Plant Special
FREE FALL PLANTING
Now through September, Buy a tree at regular price with a planting kit and we will install it free this fall.
See store for details. Some restrictions apply. Sale ends 9/30/17
DOES NOT APPLY TO LANDSCAPE DIVISION CONTRACTS
Check back to see what will be on sale in the near future.
or subscribe to our eNewsletter.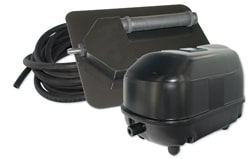 You most likely know that your pond needs oxygen in the water but you may not know how much and how to get it there. A still pond is only able to exchange gases at the water surface. A still pond will support only a very small fish population. Installing an aeration...
Monthly Product Special
We are discontinuing All Tetra Pond Brand items and clearing them out. All Tetra Products are
 now 50-75% off